August 5, 6, and 7, Civic Holidays 2023,  Richmond Green Park  Located at  1300 Elgin Mills Rd E, Richmond Hill, ON L4S 1M5, Canada
Experience the Best of Persian Cuisine and Culture
Toronto is a vibrant mosaic of ethnicities and cultures, and its true strength lies in diversity. Tens of thousands of Persian Torontonians call the city their home, preserving their customs and culture while welcoming all non-Persian neighbors, friends, and colleagues with open hearts and minds.
To celebrate Toronto's multiculturalism, we invite people from all walks of life and backgrounds to join us for a fun-filled Three-day event in August 5, 6 and 7, 2023, showcasing Persian food, music, and culture. Shier Media is proud to host the Persian Food Festival at the heart of Richmond Hill, with free admission for all. Bring your family and friends to enjoy live entertainment and, of course, the delicious Persian cuisine at the beautiful grounds of Richmond Green.
We also welcome sponsors to take this excellent opportunity to promote their brand and business. Contact the event organizer to learn more about our various sponsorship options and mutual collaboration
Celebration of Persian Culture and Cuisine
While the 2023 Persian Food Festival is primarily focused on celebrating Persian cuisine, culture, and traditions, we also strive to promote diversity and inclusivity across the globe.
By inviting people from different backgrounds and cultures to join us at the festival, we hope to create a welcoming and inclusive atmosphere that celebrates the diversity of our community.
We believe that diversity is one of the fundamental pillars of our society and that by embracing it, we can build stronger and more interconnected communities.
We hope that by attending the 2023 Persian Food Festival, you can experience and appreciate the richness of Persian culture and cuisine, while also celebrating the diversity that makes our world so unique.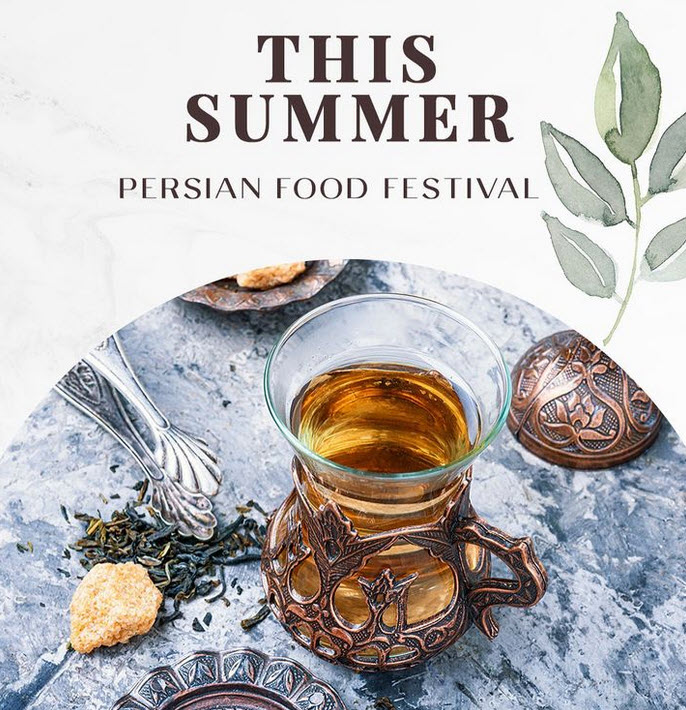 Why Persian Food Festival?
There are many reasons why you should join the Persian Food Festival
Experience Persian Cuisine
The festival provides a unique opportunity to experience Persian cuisine, music, and culture, which can be an enriching and memorable experience.
Free Admission
The festival is completely free to attend, making it accessible to everyone regardless of their financial situation.
Celebrate Persian Culture
The festival is a celebration of Persian culture, offering visitors the chance to learn more about the history and traditions of this vibrant community.
Family-Friendly Fun
The festival is a great place for families to spend time together, with activities and entertainment suitable for all ages.
Frequently asked questions